Product: Gardener's Greenhouse Plant Cooling Suite Watering Drip Repair and Expansion Kit
Price: $ 21.99
Company: Koram
Cheapest Place to Buy: Amazon
My Rating: # 9.3 out of 10
Koram Irrigation Kit, Product Overview
This irrigation kit is perfect for beginners looking to build their first irrigation system as well as experts looking to upgrade or expand pre-existing irrigation systems. Koram's Kit comes with two different type of irrigation heads, splitters, plugs, and 100 feet of 1/4 inch tubing. While the instructions that come with this product are extremely lacking and confusing the kit it self is ideal.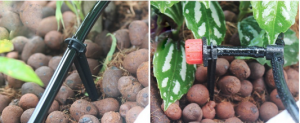 The tubing is sturdy enough to withstand up to 50 pounds of pressure but also soft enough to be easily manipulated into any position you desire. The adjutable two types of adjustable head, mister and drip, can both be tightened down to completely shut of the valve.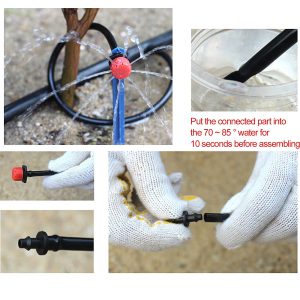 Installing this system is extremely easy with the irrigation heads and couplings simply sliding into the tubing. The directions suggest dipping the tube in hot water to soften the tip before inserting the barbed couplings. This is a step that I did not originally head and as such i struggled with my first 3 connections. Once I heated the tube as suggested the connections became a breeze. I would like to add to their suggestion of using hot water suggesting you also use a rubberized glove to get a better grip on the wet rubber tubing as it can get slippery.
Once this irrigation system is installed I have found little to no maintenance requirement of the system. it is durable enough for regular use, and re-use. I have used the same system for 17 different harvests so far and have not seen and issues arise yet.
Product Details
Up to 70 percent water savings compared to manual watering
Precise drip watering for green, healthy plant growth with low water usage
Expand and customize your drip watering system. Save up to 70% in water savings which calculates into money in your pocket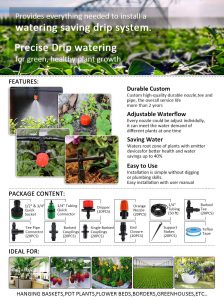 Package Contents: 
1/4″ Blank distribution tubing (50-foot)

Versatile 1/4″ blank distribution tubing may be used as the main line in a small drip irrigation system or to branch off from 1/2″ tubing to individual watering devices and plants.

1/4″Barbed tee (40pcs) 

Use to connect 2 sections of 1/4″ tubing in order to direct water to another location or connect 1/4″ tubing to a supply line. Exclusive double-barbed design allows use with higher water pressures up to 50 PSI.

1/4″ Barbed couplings (10pcs) 

Quickly and easily connect two lengths of 1/4″ drip tubing (in a straight line) with this barbed coupling.

End Closure (20pcs) 

Use as an end closure for 1/4-Inch tubing or as a side plug for 3/8-Inch tubing.

1/4″ Tubing Stakes (40pcs) 

Holds 1/4″ drip tubing securely in place.

Irrigation Drippers (40pcs) 

Water flow: 0-70L/H (8 holes sprinkler, adjustable and it can be close)

*3 x Faucet Connect Accessories
*1 x Tape
Final Thoughts
This kit is an amazing starter or expansion product. I have personally used this kit to lay irrigation lines into 3 outdoor gardens and 4 indoor container gardens. This kit is also easily modified to work with a gravity fed reservoir instead of an existing water pressure system. The adjustable drippers and sprayers allow you to adjust the amount of water each plant gets individually.
Please leave me a comment below if:
you have any experience with any of these products
you agree or disagree with any of my recommendations
you know of any superior products that I should try out next
you have any extra information you would like to share with the Apartment Growers Community
-Atlas